Where to Claim Prizes
Where to Claim Lottery Prizes in Minnesota
Congratulations on your Minnesota Lottery win! This page will walk you through the steps to correctly claim your prize at a retailer, lottery office, or by mail.
First of all, sign and print your name on the back of your ticket and keep it in a safe spot. Lottery tickets are bearer instruments, so unless you sign it, anyone who has the ticket can claim the prize.
Also make a copy - or take a clear photo - of both sides of the ticket to add to your records for safekeeping.
Keep an eye on the clock; you have one year to redeem winning draw game tickets (like Powerball) from the date of the winning draw. Scratch-off prizes are good for one year from the official end of the game. If the expiration date falls on a weekend or holiday, you'll have until the end of the next business day to claim.
What Happens to Unclaimed Prize Money?
What happens to the money in the prize pool if a winner does not collect their prize in time and it expires? Unfortunately for the winner, the prize is gone for good. For games exclusive to Minnesota, if the winning ticket is unclaimed by the deadline, the prize fund is transferred to the Minnesota General Fund. For multi-state games (Powerball, Mega Millions, Lotto America, and Lucky for Life), the percentage of the prize pool that each state lottery contributed is returned.
Tax Withholdings
Under Minnesota law, prizes over $5,000 are subject to 24 percent federal tax withholdings and 7.25 percent state withholdings before the prize is paid by the lottery. If you are not a Minnesota resident (including Canadians), the prize will still have the 7.25 percent state tax deducted. Winners should contact a financial advisor for details of any additional taxes that may be payable.
How to Claim
The Minnesota Lottery encourages all winners of $50,000 or less to mail in a claim - see details below.
If the ticket is worth $599 or under, a retailer may be able to cash it.
If the prize is $600 or over, winners have the option to receive their check in person at the lottery's Roseville headquarters. Bring the signed winning ticket and a completed claim form.
For prizes over $50,000, call the lottery at 1-888-568-8379 or 651-635-8273 and a staff member will discuss your claiming options.
Claim by Mail
Winners can claim prizes of $50,000 or under by mailing in the signed original ticket to the lottery with your claim form. Ensure you keep copies of the ticket, include your return address on the envelope, and use certified or registered mail for tracking - the lottery is not responsible for lost claims.
Mail to:
Minnesota State Lottery
P.O. Box 131000
Roseville, MN 55113
Claim at Minnesota Lottery Headquarters
Prizes above $599 can also be claimed from the Roseville headquarters at 2645 Long Lake Rd, Roseville, MN 55113
Appointments are recommended for claims over $50,000. No ticket sales are offered. Opening hours may vary; please call before visiting.
Phone: (651) 635-8273
Hours: Monday - Friday, 8:00 AM - 4:30 PM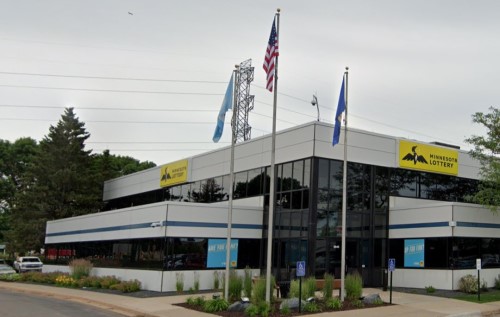 Claim at Minnesota Lottery Regional Offices
Opening hours may vary; please call before visiting. Prize claim ppointments are not required, but are highly recommended to prevent delays. Claimants with appointments will have priority over walk-ins. In order to maintain social distancing, only one claimant at a time will be able to enter the lobby.
Minnesota Lottery Regional Offices

| Office | Address | Phone | Hours |
| --- | --- | --- | --- |
| Owatonna Office | 205 Cedardale Drive, Owatonna, MN 55060 | (507) 444-2400 | Monday - Friday, 9:00 AM - Noon & 1:00 PM - 4:30 PM |
| Detroit Lakes Office | 1641 Highway 10 W, Detroit Lakes, MN 56501 | (218) 846-0700 | Monday - Friday, 8:30 AM - Noon & 1:00 PM - 4:30 PM |
| Virginia Office | 130 Chestnut Street, Virginia, MN 55792 | (218) 748-2450 | Monday - Friday, 8:30 AM - Noon & 1:00 PM - 4:00 PM |
| Marshall Office | 750 West College Drive, Marshall, MN 56258 | (507) 537-6041 | Monday - Friday, 9:00 AM - Noon & 1:00 PM - 4:30 PM |